"Carpatia" stands for a multinational territory in the eastern centre of Europe. A terra incognita in most western European consciousness, and also cinematically an undiscovered domain.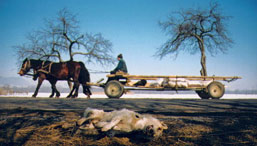 Starting a few kilometres east from Vienna, over the whole Slovakia, Southern Poland, Ukraine, Romania and Hungary the Carpathian Bow traces a 1500 kilometre long mountain chain. All five adjoining states in the Carpathian region have three distinctive similarities: Until 1918 the territory belonged to a multinational AustrianÐHungarian monarchy; After 1945 the Carpathians went under the influence of the Soviet Union; Before the Jewish Holocaust the Jews have been living in this region for over hundreds of years. Due to the seclusion, its landscapes and its original cultures are still very well preserved today compared with other European areas.
This documentary portrays the people, places and the landscape of the Carpathian Mountains. Along this journey you will meet gold diggers, wizards, cow herders and the old Hassids as well as gain insight into the lives of the other ethnic groups of the region, like the Hutsuls, the Gorals and the Roma.
"Carpatia" - takes you on a time travel through the rural mountainous regions of Europe, which may seem outright foreign to us, but they nonetheless allow us to connect with common cultural and historical roots.
Germany / Austria 2004 Colour 127 Minutes Dolby SR Super16 / 35mm BlowUp 1:1,66 Subtitles German / English